Hinged Steel Belt Conveyor
American Conveyor Group, Inc., (ACG Conveyors) has partnered with Titan Industries and proudly offer Titan's Hinged Steel Belt Conveyors.
Titan Hinged Steel Belt Conveyors offer an exclusive radial sidewing design to eliminate pinch points that cause belt wear and often damage parts. Common conveyor uses include metal scrap and metal parts. Titan's Hinged Steel Belt Conveyors product line includes designs specific to handling metal shavings up to metal castings weighing hundreds of pounds each. Titan's Hinged Steel Belt Conveyors excel at providing superior replacement conveyors when the OEM's conveyors fail.
Titan Hinged Steel Belt Conveyors line of conveyor products include: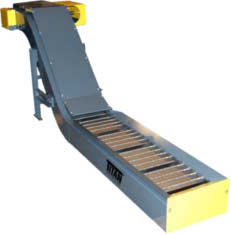 Titan Chip Conveyors fit the needs of today's machine tool environment. These units are designed for rugged chip handling applications. Standard features include flared infeed siderails, liquid tight bottom pan, 2″ high vertical siderails, and low profile side mount drive. Belt widths available from 6″ to 24″.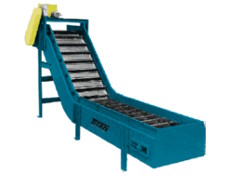 Steel Belt Conveyors are the most versatile of conveyors. Ideal for any type of metal scrap, from tiny chips, turnings, bushy material, wet or dry in large or small volumes. 4″ and 6″ pitch hinged steel belt conveyors are ideal for larger scrap, foundry, and any applications with heavy loads.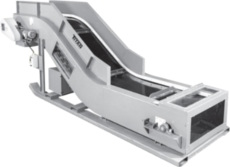 Large Solid Waste/Recycling Conveyors dictate using a rugged steel belt. Titan Solid Waste/Recycling Conveyors will satisfy most heavy-duty scrap handling requirements. Titan Conveyors will withstand years of heavy industrial use. Four different configurations are available.
Available Hinged Steel Belt Conveyor Models:
CONVEYORS  •  PITCH   •   BELT SPEED   •   FRAME
Model 610 – 2 1/2″ Pitch Hinged Steel Belt Conveyor, Speed 10 F.P.M. Frame, Formed 12 Gauge
Model 620 – 2 1/2″ Pitch Hinged Steel Belt Conveyor, Speed 30 F.P.M. Frame, Formed 10 Gauge
Model 630 – 2 1/2″ Pitch Hinged Steel Belt Conveyor, Speed 30 F.P.M. Frame, Formed 10 Gauge
Model 640 – 4″ Pitch Hinged Steel Belt Conveyor, Speed 30 F.P.M. Frame, Formed 10 Gauge
Model 660 – 6″ Pitch Hinged Steel Belt Conveyor, Speed 30 F.P.M. Frame, Formed 7 Gauge
Model 350 – Pro Feed Steel Belt Parts Feeder, Speed 10 F.P.M. Frame, Square Tubing
Quench Conveyor  – 2 1/2″, 4″ or 6″ Pitch Hinged Steel Belt – Per Application – Formed 10 Gauge
Request for Information