Belt Conveyors
"Slider Bed & Roller Bed"
Introducing the extensive line of Roller Bed and Slider Bed Belt Conveyors by the Hytrol. ACG Conveyors has partnered with Hytrol conveyors, to bring you the durability, reliability, and quality that Hytrol has become known for, including Hytrol's exceptional service at a very competitive price.
Scroll down to see our inventory of Hytrol Conveyors.
Included in Hytrol's Belt Conveyor product line are:
Powered Belt Conveyors,
Slider Bed,
Powered Belt Gapping Conveyors
Wire Mesh and,
Plastic Belt.
Floor-to-Floor & Incline Conveyors,
Powered Curves,
Roller Bed,
Trough Roller Bed Conveyors, and more.
Horizontal Belt Conveyors are used ideally to move items with uneven or irregularly shaped bottom surfaces. Small bagged items that can sag, or become trapped, or fall between rollers or any type items that could fall between rollers are excellent candidates. Belt conveyors are much more desirable in packaging lines and when fragile products are being conveyed. Click on an image for more information for products conveyors ….
The versatile Hytrol Medium and Heavy Duty Conveyors are ideal for long assembly line operations, inspections, testing, sorting, packaging, and packing.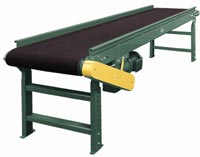 The Hytrol Troughed Conveyor is ideal for conveying boxes, cartons, cases, bags, packaging, and loose parts in overhead conveying applications.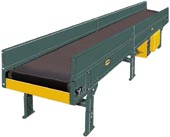 Trash Handling Conveyors are designed for long conveyor runs with high rails to help keep trash from falling from the conveyor.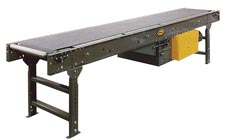 Slider Bed Conveyors are designed with channel frames and are ideal for packaging and matching up with roller bed conveyors.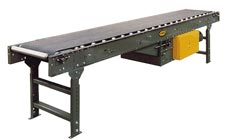 Roller Bed's are designed to move heavier loads. The roller bed design reduces friction and provides for greater capacity.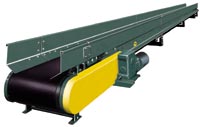 These Conveyors are ideal in recycling and scrap handling of broken glass, cans, wood chips, aluminum, steel, plastic, etc.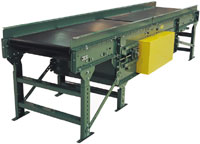 Designed for feeding saw tooth merges, combiners, sorters, where gaps must be pulled between cartons  to insure the proper operation.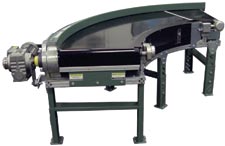 Hytrol Transnorm Conveyors provides a positive flow of product by means of a belt, driven by tapered pulleys.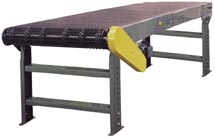 Conveyors with wire belt can carry hot or cold parts from ovens or freezers. Excellent for use in packaging and drying operations.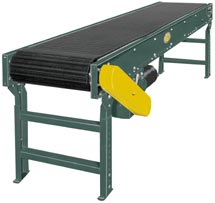 Modular plastic belt eliminates slippage and mis-tracking.  Ideal in applications requiring air flow through and wet products.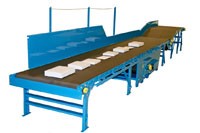 The Hytrol Parcel Conveyor, Model "HPC Conveyor" is designed for the parcel handling industry.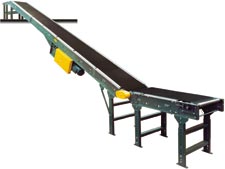 Available in Floor-to-Floor Incline Slider Bed Conveyors, Roller Bed Conveyors and Incline Conveyors for bags, boxes, cartons, and parts.
Call an ACG Conveyor Expert…
No Obligation & Toll-free at (866)403-5232 …
American Conveyor Group, Inc. has experts standing by to answer all your questions and to solve all your material handling problems, and to make sure you are getting the best solution for your needs.
Request for Information
No Fields Found.