Material Handling Conveyors
American Conveyor Group, Inc., is your "One Stop Shop" for all your material handling needs. Because of our partnership with top leading conveyor manufactures, you get the best equipment from "The Best Manufactures" at a "Great Price" with "Quick – Professional – No Hassle Service".
ACG is an e-Commerce Conveyor Systems Integrator
"ACG" is a leading e-Commerce Conveyor System Integrator. We have partnered with the best, most reliable, and most dependable material handling systems manufacturers in the United States.
Call one of our experienced and knowledgeable experts at (866) 403-5232 for our full line of products.
We Can Help You Because… "We know Material Handling Equipment"
The lifeline to your company is an efficient, low maintenance, conveyor system. A properly designed system will move products effectively and timely, perform at peak capacity, and your conveyor system will last much longer.
This is where our experts can help you boost your conveyor's productivity. We have the years of experience that it takes to really know and understand industrial material handling. You want the best solution for your current problems. That is where we can help. Call us at (866)403-5232. Give us the opportunity to show you how we can solve your problems and save you money.
Choosing the Right Type and the Right System Design
We are here to help you. From questions of design and conception, to installation and completion, We offer a wide variety of packaging and material handling systems. We have many pre-designed and pre-engineered products, from the top conveyer manufacturers, that can easily be implemented into your existing system. We have pre-fabricated components, crated and ready to be shipped. But if you need a custom products solution, we can engineer and design a complete "Turnkey Custom System" designed specifically to meet your exact needs.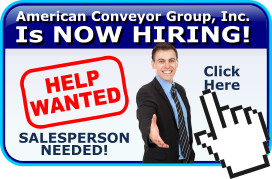 Our company is currently seeking qualified applicants for a position as a System Sales Representative in the Southeastern USA. We are looking for a motivated self-starter to supplement our, already established, team in the Conveyor and Material Handling Industry. Click Here for more information.

 

Let Us Prove Our Commitment To You:


As a service to you, we are offering you a No Obligation, On-Site Evaluation of your existing system for Free!
Give us a call. Let us evaluate your current material handling system to assess how we can, Improve Your Operations. There is no obligation. Call today, (866)403-5232, and schedule your Free In-Plant Consultation. For more information visit In-Plant (On-Site) Consultation page.
Our Specialty Is:
Integrating best matched components and equipment, from the best and most trusted manufacturers. You get exactly what you need to keep your products moving. With us you get…. Service, Durability, Dependability, Low Maintenance & Experience.
How we can help you:
We can design, ship, or install, a system, comprised of very configurable, standard components, that will easily integrate into your existing system. A system consisting of pre-built, ready to ship components. Or if your needs demand,
We can design a "Custom Solution" that satisfies all your needs, regardless of your requirements. We have solutions that meet your most demanding application challenges that will save you time and money.
Our experts are waiting to answer all your questions…
If you have any questions, please call and speak to one of our experienced and knowledgeable experts at (866) 403-5232.
Featured Conveyor Solution Partners and Manufacturers for Package Handling