Unibilt® Hand Pushed Conveyor Trolley
Daifuku Webb's Hand Pushed Conveyor Trolleys are the most durable and reliable in the business Daifuku Webb's Unibilt Hand Pushed Conveyor Trolleys have a load capacity of 250 pounds per trolley and a load capacity of four trolleys connected in tandem with load bars is 100 pounds. The unique side guide rollers originated and patented by the Jervis B. Webb Company are the secret that keeps Unibilt Hand Pushed Conveyor Trolleys rolling smoothly.
Among Daifuku Webb's extensive line of products there are also:
1. Unibilt® Enclosed Track Overhead Conveyors,
2. Power & Free Inverted Conveyors
3. Unibilt Hand Pushed Conveyor Trolley
4. Over-N-Under Overhead Conveyors and the
5. Unibeam® I-Beam Conveyors
1. Rolling action prevents undue wear on the flange and offers greater ease in pushing loads and helps eliminate sloppy side sway.
2. High-strength cast body provides a high degree of safety.
3. Ball bearing wheels, with hardened races and tread, minimize the pushing effort while prolonging trolley life. Hardened side guide rollers, with stainless steel guide roller pins, help eliminate roller binding due to corrosion.
4. The three-hole load connection rigidly mounts carriers to the trolleys, to prevent excessive pendulum motion.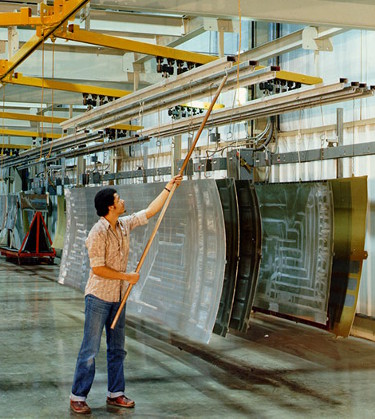 Hand Pushed Conveyor Trolley Benefits:
Smooth operation
Reduced spillage
Eliminate corrosion
Load capacity of 250 lbs. per trolley
Eliminate binding or freezing of rollers
High-strength cast body provides a high degree of safety
Prevents excessive pendulum motion with three-hole load connection mounts
Hand Pushed Conveyor Specifications:
Load capacity of 250 lbs per trolley
2-1/4″ ball bearing wheels
  PDF Brochure
Our Most Economical Four-Wheel Hand Pushed Conveyor Trolleys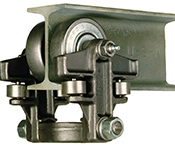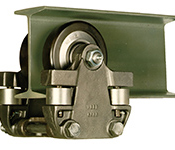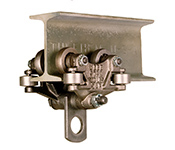 Daifuku Webb's Hand-Pushed Conveyor Trolleys are engineered to accommodate a 500 to 4,000 pound capacity.  In order to deliver unparalleled performance, we rely upon Red Seal Trolley Wheels and our patented side rollers. Red Seal Trolley Wheels Retainer-type Red Seal trolley wheels have been developed specifically for rugged conveyor applications
Wheel contains a Conrad-type single row precision bearing in steel or composite retainer ring
Lowest friction and highest load rating possible for a ball bearing of this size and style
Promotes longer life and lower maintenance under all conditions
Patented Side Roller Standard on all hand pushed trolleys
Keeps the trolley running smoothly
Doesn't allow the brackets to rub against the flange of the I-beam around the curve
Rolling action prevents unnecessary wear on the conveyor track and trolleys
Eliminates sloppy side sway
Offers greater ease in pushing and moving loads throughout the conveyor system
Hand Pushed Trolley Benefits:
Rugged
Patented side roller
Ease in pushing and moving loads
Accommodate 500-4,000 lb. capacity
Lowest friction and highest load rating possible
Longer life and lower maintenance under all conditions
Prevents unnecessary wear on conveyor track and trolleys
Hand Pushed Conveyor Trolley Specifications:
Request for Information