Atlantis Flex Gravity Conveyors (Wheel type) can instantly be set up creating a flexible conveyor line for packaging and assembly operations or shipping and receiving lines. They are also very suitable for moving multiple sized cases, boxes, totes, or cartons. Atlantis Flex Gravity Conveyors are very versatile by expanding, contracting, and flexing side-to-side, they can easily be adjusted for any operation. They can quickly be used as a stand alone system or with other any other material handling system.
Expandable Gravity Flexible Conveyors
The Gravity Flex Conveyors are ideally suited for flexible assembly lines, truck loading and unloading, shipping, packaging.
The Gravity Flex Conveyors can handle the tough jobs and can run 24 hours per day.
The Gravity Flexible Conveyors are an excellent choice for handling low quality packages and cartons, odd shaped packages or bags.
The Gravity Flexible Conveyors are well suited for distribution centers and shipping and receiving including, packaging, portable assembly lines.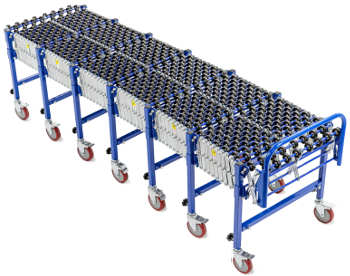 Contracts Easily for Storage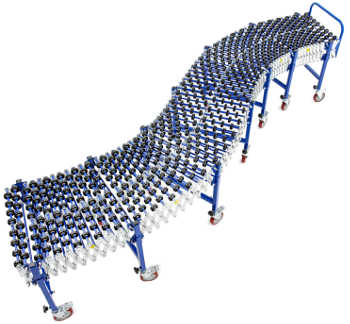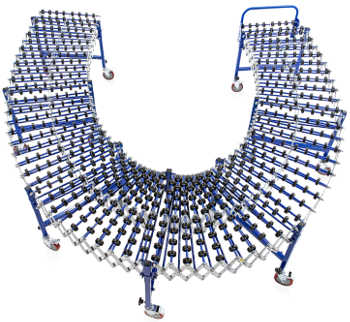 Easily Configured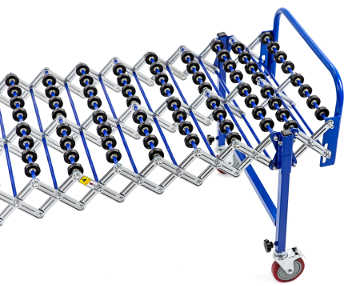 Expands Easily
Do You Have Questions About an Atlantis Flex Conveyor?
Talk to an expert now… There's No Obligation & The Call is Free (866)403-5232 …
American Conveyor Group, Inc. have experts standing by to answer any of your questions and will solve all your material handling problems, and will make sure you're getting the best solution for your all your conveyor needs. Or you can fill out a Product Request Form below and a representative with get back with you ASAP.
You may also be interested in:
Hytrol FX-200 Heavy Duty Flexible SkateWheel Conveyor
24 Hour Shipping is Available.

 (Subject To Available Stock)

When it comes to trailer loading or unloading, the Hytrol FX-200 is also a proven performer. It is also well suited for packaging and shipping and flexible assembly lines.

Click for more information on Hytrol FX-200 Flexible Skatewheel Conveyor
Request for Information