Heavy Duty Flexible SkateWheel Conveyors
FX-200 – Heavy Duty Extendable Flexible SkateWheel Conveyor
The FX-200 Heavy Duty Flexible Skate Wheel Conveyor (Extendable Conveyor) is a proven performer for trailer loading and unloading. Ideally suited for packaging, shipping and flexible assembly lines. Order optional leg connect brackets to lock units together.
Supported with Structural Steel:
For unequaled strength, channel steel extends the entire width of the conveyor.
1-1/4" Aluminum alloy Side Plates:
With ribbed construction for added durability and assembled with shoulder bolts
24 Hour Shipment Available.

(Subject To Available Stock)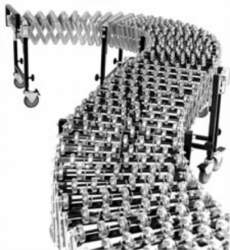 Available FX-200 Model Specifications and Sizes

Standard Specifications
Frame – Flexible & Extendable.
Widths – 18in. & 24in.
Lengths – 12ft. & 24ft.
Expansion Ratio – 4:1
Wheels – 1.9in. Diameter
Casters – Swivel Casters & Locking Brake
Package Stop – Folds Down When Not In Use
Capacity– 200lbs. Capacity Per Linear Foot
Floor Supports – Adjustable 28-1/2" To 41-1/2"
Optional Leg Connect Brackets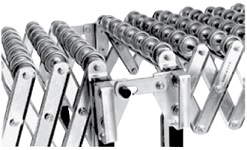 Used to Connect two or more conveyors.
Download:

  FX-200 – Heavy Duty Flexible Extendable
And you may also be interested in:
Hytrol Gravity Skate Wheel Conveyor: (Straight)
Hytrol Gravity Skate Wheel conveyors are ideally used to convey lightweight packages or when operation requires lightweight sections. A Skate Wheel conveyor is useful in setting up temporary conveyor lines in warehousing activities, shipping departments, assembly areas, etc.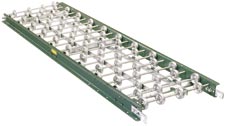 Overall Widths: 12″, 15″, 18″, & 24″
Axles on 3″ or 4″ centers
Bed – 2-1/2″ deep x 1″ flange x 12 ga. formed steel powder painted, or 1/8″ heat treated aluminum channel
1-15/16″ O.D. steel or aluminum wheels
Couplings use bolts on one end, hooks on opposite end
Gravity Skatewheel Conveyor Capacity – Maximum load per wheel 65 lbs. steel. 45 lbs. aluminum
Download:


  Gravity Skatewheel Conveyor: Straight
Hytrol Skate Wheel Conveyor Rails
Skate Wheel Conveyor Rails are made up of standard skatewheels mounted to various angle-channel configurations. They provide a means of economical mobile storage systems. Can be mounted on floor level or in storage flow racks. Rails are 12 ga. powder painted steel.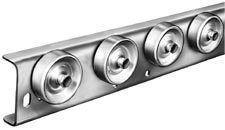 Download:


  Conveyor Rails
Request for Information
No Fields Found.