MODU Stainless Steel Conveyors
Stainless Steel Conveyors by MODU has a complete line of Stainless Steel Conveyor Systems. They basically consist of two models. The MODU DS2 and the MODU DL2. This streamlines the assembly and installation time, and allows for rapid line modifications. MODU Stainless Steel Conveyors are efficient. And they operate well at high speeds, without the need of lubrication.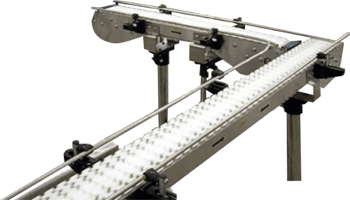 All MODU System Stainless Steel Conveyor's are modular in design. This allows for fast, easy, trouble-free configurations. On-site installation is easy and fast. Owning a MODU Conveyor is affordable, efficient, and simple to operate and maintain. And assembly is quick and easy to configure and reconfigure, using ordinary hand tools.
Efficiency in Design
With MODU Stainless Steel Conveyors you can be assured they are suitable for use in a hygienic environment. With MODU's open design and abolished pockets and advanced drainage you can trust their conveyors in hygienic environments.
MODU Stainless Steel Conveyors at Work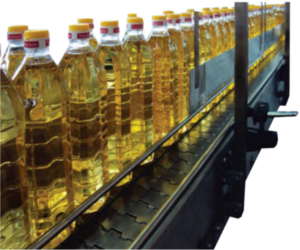 Applications
Packaged food handling
Pharmaceutical industry
cosmetics industry
any industry where a clean environment is required with easy, quick cleanup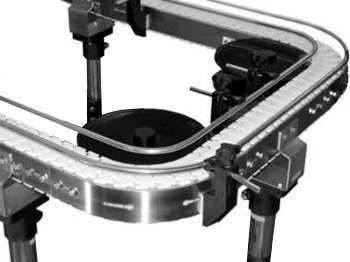 Benefits of Stainless Steel
Minimum dust accumulation, and easy to clean
Low noise level
Low power consumption
Integrates with other devices (sensors & diverters)
Flexible installation with site layout
Modular design (replace components easily, drives, idlers, etc…)
Modular design packages into flat boxes and reduces shipping cost
Lightweight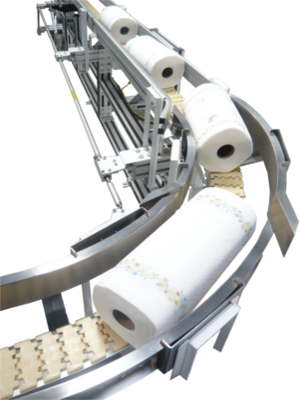 Stainless Steel with Kevlar Chain
MODU Automation with Kevlar…
Accommodates diverters, package turners, grippers, lanners, multi-flow and spiral conveyors. MODU has introduced a new chain material technology for use in their table top models called POM-Kevlar. By using Kevlar in their chains aids in overcoming excessive wear and tear on chain and wear strips. And reduces noise, vibration, and dust.
A more important aspect of Kevlar use is, it is:
Robust,
High resistance to cut,
Minimum electrical conductivity,
Minimal shrinkage from environmental temperatures,
High tensile strength with less weight,
Highly resistance to chemicals,
Dimensions remain exceptionally stable,
Flame and fire resistant.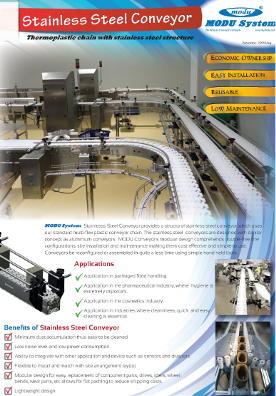 MODU DS2 63mm Chain Width
63mm Thermoplastic chain with aluminum conveyor system is suitable for a wide range of applications preferable in hygiene applications.
Examples of application industries
Personal Products, Automotive Industry, Chemical and Pharmaceuticals, Food Industry, Machined Parts, Electronics, Paper Industry, and High Quality Optical Lens Industry.
MODU DM3 83mm Chain Width
83mm Thermoplastic chain with aluminum conveyor.
MODU DL2 140mm Chain Width
140mm Thermoplastic chain with aluminum conveyor.
MODU DX2 220mm Chain Width
220mm Thermoplastic chain with aluminum conveyor.
No Fields Found.