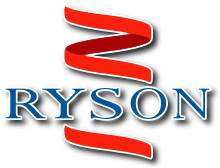 Ryson Conveyor Integration
Ryson is the manufacturer of High Quality Spiral Conveyors. They are designed for long life and low maintenance. Every Ryson Conveyor is tested, in house, before shipment. For optimal system performance, proper integration into an overall conveyor system is required.
Following the Ryson spiral performance integration guidelines are required for longevity. Improper installation and integration may void the warranty. For detailed information see the manuals provided below and any manuals provided with your Ryson Spiral Conveyor.
Spiral Integration and Maintenance

 Ryson Spiral Integration and Maintenance at a Glance

Ryson Recommended Preventative Maintenance Program
Ryson Spiral Installation

Ryson Spiral Installation at a Glance
Almost all Ryson Spiral Conveyors are pre-assembled (in one piece), and pre-tested, prior to shipment. This drastically reduces time and cost during installation. However, for shipping reasons, some components may be detached before delivery. These may include Ryson Spirals that are equipped with extended in-feed & out-feed elements or spirals with a greater than 8 feet diameter. See the supplied literature and spiral manual for more information.
Note: All Ryson Spirals are shipped with a frame equipped with casters, for easy loading, unloading and transfer to the storage or installation area. Reinforced fork-lift pockets are available in center tube of each spiral. The fork-lift pockets are for safely allowing horizontal fork-lift handling. The top of the center tube is designed for easy rigging while standing-up Ryson Spirals.
Spiral Start-up Check List
All Ryson Spiral Conveyors are tested, in-house, prior to shipment. Proper integration into overall conveyor system is dependent for long life and reliable operation. Installation and integration instructions are included in the operations manual and include the following:
Check and make sure all integration instructions are completed.
Check Chain Tensioner for proper adjustments. Remove the red chain shortening tool if installed. Save tool for future use.
Check all side guides are adjusted correctly and are in place.
Set Adjustable Transition Rollers (and/or transition plates).
Check height adjustments. This assures smooth products will flow over transitions.
Check oil level and breather plug in gear motor. Also, if installed, remove vent shipping grommet.
BUMP motor to check spiral conveyor direction. On initial startup, run spiral at slow speed. Check for parts that have loosened during shipment
Check Proximity Sensors for function.
Check VFD ramp-up. Normal acceleration parameter should be 3 to 5 seconds, depending on spiral height.
Check VFD ramp-down. Normal deceleration parameter should be a minimum, 3 seconds.
Run test products. Set overload device with a fully loaded spiral.
Check speed matching. In-feed spiral and out-feed conveyors must be ran at the same speed.

 Download the SEW AC brake wiring schematic


 Download the SEW DC brake wiring schematic


 Download the SEW Brake Coil Resistances
Ryson Spiral Conveyor Integration
For information regarding Ryson Vertical Spiral Conveyor Integration click image below.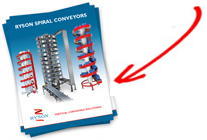 Request for Information
No Fields Found.