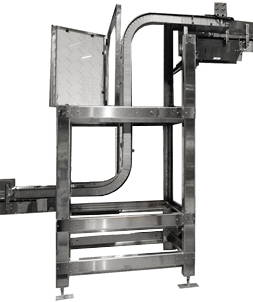 The Vertical Lift Conveyor – Gripper Elevator (i.e., Lowerator) by Modular Conveyor Express has the advantage to securely elevate or lower products while using very little floor space. This unit firmly and gently grips your product at the same elevation as your in-line conveyor to provide continuous transporting through the elevation change. The grippers then release your product through a seamless discharge while distributing onto your take-away conveyor line.
Vertical lift conveyors are used to transport products between multiple levels with speed and care. It doesn't matter if loads are packaged or unpackaged, soft or rigid, the "Modular Conveyor Express" Vertical Lift Conveyors deliver reliability and high performance.
Verticle Lifts are available in "C" or "S" Configurations
The "Modular Conveyor Express" Vertical Lift Conveyors are available in "C" or "S" configurations. The "S" configurations are much more space-efficient than an incline conveyor or a spiral conveyor system. It can also be used either upward or downward. Like the "S" configuration, the C configuration can transport in either direction.
Both "S" and "C" vertical lift conveyors feature low maintenance, long-life, and quiet operation.
Vertical Lift Conveyor – Gripper Elevator Features:
The standard speeds of the Vertical Lift Conveyor – Gripper Elevator are up to 200 feet per minute.
Width adjusts from 0″ – 11″ with the turn of a single hand wheel.
The modular features easily allow for future field modification of:
Elevation of in-feed or discharge
"C" or "S" configuration
Hand wheel location
Product Handling Applications
Suitable for use in many industries, gripper elevators are used for single product elevation or lowering. Typical products include:
glass
plastic containers
cans
bundles of tissue
cartons
small cases
pouches
See our Vertical Lift – Gripper Elevator in Action
You may also be interested in…
Vertical Lift Conveyors and Vertical Reciprocating Conveyors
If you need a Vertical Lift Conveyor or Vertical Reciprocating Conveyors (VRC) to move larger, multiple size products, material or equipment from one level to another, A PFlow product may be a better option for you.
Note: VRC's are not elevators. VRC's are exempt from national elevator codes and regulations.
No Fields Found.