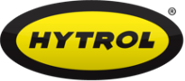 Vipersort Sortation Conveyor by Hytrol
The Hytrol Vipersort Sortation Conveyor. The ViperSort is a right angle sortation conveyor used to sort small to medium size products. The ViperSort utilized a patented design which enables the sorting of cylindrical products, extremely thin items such as blister packs, vinyl envelopes and other problematic items.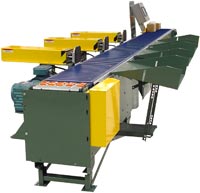 Overall Widths are: 13-1/4″, 15-1/4″, 17-1/4″ & 19-1/4″
Bed – 6-3/8″ deep x 12″ ga. formed steel bed powder painted with aluminum guide rail extrusion capped withUHMW wearstrip placed on bed for carr way.
Air Requirements – 60 p.s.i.
Motor – 230/460V-3Ph. 60HZ. HP based on speed and length requirements
Capacity – Maximum unit package weight 25 lbs. For maximum conveyor distributed load, contact factory.
Adjustable Floor Supports Available
You may also be interested in….
Hytrol ProSort SC1 & Hytrol ProSort SC2
Horizontal Belt Sortation
The Model Hytrol ProSort SC1 and Hytrol ProSort SC2 Horizontal Belt Sorters are belt driven sortation conveyors. The Hytrol ProSort SC1 and Hytrol ProSort SC2 Belt Concept provides a reliable method of tracking packages to the divert stations. Take-away spurs may be skatewheel type or powered type slaved from the main sorter.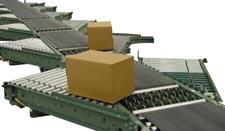 Overall Widths of the Hytrol ProSort SC1 and Hytrol ProSort SC2 are: 18″ single side only – 24″, 30″ & 36″ single or double sided
Bed-Roller bed with 1.9″ dia. x 16 ga. rollers with ABEC-1 bearings spaced every 6″. Mounted in 6-1/2″ deep x 12 ga. powder painted formed steel channel frame
High performance center drive with shaft-mounted gearmotor and variable speed controller, horsepower based on speed and length
Belt Speed-Determined by application requirements, 300 FPM maximum
Right hand, Left hand or Two-Sided diverts available
Adjustable Floor Supports Available
Diverter Specifications
Diverter Mechanism-Two banks of twin pivoting 3-1/8″ dia. wheels with urethane treads driven by 3/8″ dia. urethane belts.
Positioning Diverter-Diverter used at infeed of two-sided sorters to position packages for proper diverting
Drive-Slave driven from main belt conveyor
Air Requirements-Working pressure 60 p.s.i.
Package Size-Minimum 6″ wide x 9″ long
Capacity-Maximum unit package weight-75 lbs.
Download:


  Hytrol ProSort SC1 & Hytrol ProSort SC2 – Horizontal Belt Sortation
Request for Information