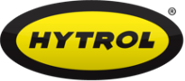 Hytrol Model PC Portable Small Parts Conveyor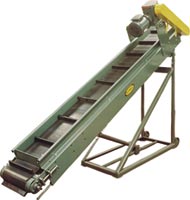 The Hytrol Model PC Portable Conveyor can be used as a portable or permanent parts conveyor. Built in side guards and cleated belt easily catch small stampings, plastic parts, etc., and carry them to hoppers or drums. Flapper gate/guard at bottom of incline prevents parts from falling through the conveyor.
In most cases, the Hytrol Model PC Portable Conveyor is assembled to limit installation time, depending on the length of the conveyor.
Hytrol PC Portable Conveyor Specifications:
Bed – 6-5/8″ deep x 12 ga. formed steel bed with 3-1/2″ high vertical guards
Belt Widths: 4″, 6″, 8″, 10″, 12″, 16″, 18″, & 24″
Belt – 1-1/2″ high molded cleats on 12″ centers
Belt Speed – 65 FPM
Overhead End Drive
Motor – 1/2 HP standard – 2 HP max.
PC Portable Conveyor Capacity – 300 lbs. total distributed load
Portable base support is tubular steel mounted on 4″ dia. steel wheels. Adjustable to control conveyor height at top and bottom – Adjustable floor supports available on longer units

  Hytrol PC Portable Small Parts Conveyor
Request for Information