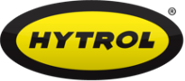 Hytrol Small Parts Conveyors
Hytrol Low Profile PCX Portable Conveyor (Parts Conveyor)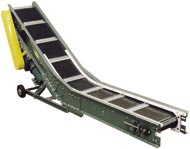 The portable Hytrol Low Profile PCX Portable Conveyor (parts conveyor) can be easily positioned under punch presses and extruding machines to catch small steel, plastic, or aluminum stampings, etc. The Low Profile PCX Portable Conveyor conveys them quickly into a hopper or drum. As much as possible, the PCX Portable Conveyor shipped pre-assembled to limit installation time.
Bed – 7-1/4″ deep x 12 ga. formed steel side channel with bolt-in slider bed which provides 1″ high sides above the belt
Belt widths: 12″, 18″, & 24″
Belt – 1″ high steel cleats on 12″ centers
Belt Speed – 25 FPM
Underside Drive
Motor – 1/2 HP standard- 2 HP max.
Low Profile PCX Portable Conveyor Capacity – 100 lbs. total distributed load
Belt Scraper – mounted inside conveyor bed section to clean underside of return belt
Portable Base Support – adjustable from 4″ to 30″
Optional Equipment:
Incline Degree: 45 Degrees
Motor: 1/2HP or 1HP 115/230/1/60 TEFC
Overhead Drive
Rigid Adjustable Floor Supports

  Hytrol PCX Portable Conveyor (Parts Conveyor)
Request for Information
No Fields Found.