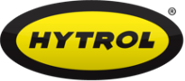 Hytrol B Portable Conveyor
Hytrol B Folding Cleated Portable Conveyor
The Hytrol B Folding Cleated Portable Conveyor is ideal for stacking, loading, and unloading. Cleats permit use at steeper inclines up to 45°. Complete with portable base.
Hytrol B Folding Cleated Portable Conveyor Specifications:
Bed – 4 in. deep x 20 in. wide x 12 ga. powder painted formed steel slider bed. Bed is hinged for storage purposes.
Belt – 14 in. wide Black Trackmate 120 Roughtop with PVC cover. Clipper lacing.
Belt Speed – Constant 65 FPM.
Cleats – Two 1-1/2 in. dia. x 1 in. high hardwood cleats, fastened to belt with 5/16 in. elevator bolts spaced every 60 in.
Hinges – To fold bed to shorter length for storage. Screw adjustment insures alignment of bed. Exclusive link (breathing feature) prevents damage of belt.
Overall Conveyor Lengths: 10′, 12′, 14′, & 16′
Incline – Adjustable with conveyor motor powered screw raising device (see chart for angles). Safety nut prevents rapid release of bed in case of overloading.
Motor – 1 HP standard
Speed Reduction – Sealed worm gear speed reducer driven by V-belt. No. 50 roller chain to drive pulley.
Hytrol B Portable Folding Cleated Conveyor Capacity – 300 lbs. total distributed load, 150 lbs. unit load at 65FPM
Reversible – Reversing drum switch with 20 ft. power cord and plug.

  Hytrol B Folding Cleated Portable Conveyor
Request for Information
No Fields Found.