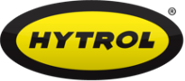 Skate Wheel Conveyor Rails
Hytrol Skatewheel Conveyor Rails & Skate Wheel Conveyors
Hytrol Skate wheel Conveyor Rails are made up of standard skatewheels mounted to various angle-channel configurations. They provide a means of economical mobile storage systems. Can be mounted on floor level or in storage flow racks. Rails are 12 ga. powder painted steel.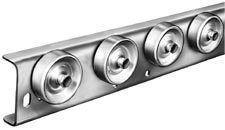 For more information on Hytrol Skatewheel Conveyor Rails
Click PDF Icon to Download:


  Hytrol Skatewheel Conveyor Rails
You may also be interested in:
FX-200 – Heavy Duty Flexible Extendable Skate wheel Roller Conveyor
Hytrol's FX-200 Heavy-Duty Flexible Extendable Skate wheel Conveyor is a industry performer for loading and unloading trailers. They are suited well for shipping  and receiving, packaging and flexible assembly lines. Optional leg connect brackets are available to lock units together.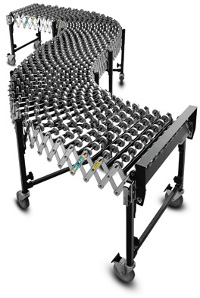 Overall Widths – 18in. & 24in.
Flexible and Extendable
Skatewheels
Casters with brakes
FX-200 Heavy-Duty Flexible Extendable Skatewheel Conveyor capacity capable of supporting 200 lbs. per linear foot
Package Stop
Download:


  FX-200 – Heavy Duty Flexible Extendable Skatewheel
Hytrol Gravity Roller Skatewheel Conveyors: (Straight)
Hytrol's Gravity Roller Skate Wheel Conveyors are suited well to move light weight packages or any time an operation requires a light weight section. Skate Wheel Conveyors are beneficial for temporary conveyor lines in shipping departments, warehousing activities, and assembly areas, etc.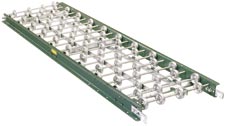 Overall Widths: 12in., 15in., 18in., & 24in.
Axles on 3in. or 4in. centers
Bed – 2-1/2in. deep x 1in. flange x 12 ga. formed steel painted, or 1/8in. heat treated aluminum channel
1-15/16in. steel and aluminum wheels
Gravity Skate wheel Conveyor Capacity – Maximum load per steel wheel 65 lbs., per aluminum wheel 45 lbs.
Download:


  Gravity Rollers Skatewheel Conveyors: Straight
Request for Information
No Fields Found.