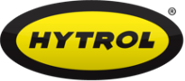 Hytrol's Connex Plastic Chain Conveyor
Hytrol's Connex Plastic Chain Conveyor Solution delivers flexibility and modularity required in today's product supply chain. Serving as the key link between processing and distribution, Connex offers the ideal transport solution for food, packaging, and pharmaceutical industries.
Connex is a strong, yet flexible, plastic chain conveyor line. It's made to accommodate a wide variety of industries and applications. Always factory tested, this line is available in aluminum, stainless steel, and powder coated steel and is suitable for the following industries:
Packaging
Manufacturing
Pharmaceuticals
Automotive
Food Production (with light cleaning requirements)
Printing
Plastics
Optical
Personal Care
Connex Plastic Chain Conveyors are available in 3 versions
Aluminum (AL)
The Connex Aluminum Conveyor is anodized to ensure corrosion resistance and utilizes a positive drive. This modular design is lightweight, quiet, and easy to install, reducing lead time.
Stainless Steel (SS)
The stainless steel line is easy to clean, easy to install, and offers a complete line of accessories. Sanitary design may be used in wet applications. Built entirely from FDA-approved materials.
Powder-Coated Steel (PC)
Connex Powder-Coated Steel Systems are designed specifically to, satisfy most conveyor layouts and handling requirements. These plastic chain conveyors are easily utilized in industries from packaging to personal care.
Connex Aluminum Conveyor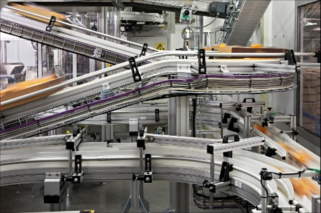 Created with a modular, compact, clean design that utilizes a positive drive with no chain slippage and is anodized to ensure corrosion resistance.
If you need flexibility in your material handling requirements, the Connex aluminum conveyor easily integrates as seamless as possible. Its design is lightweight and easy to install.
Connex Aluminum Features:
It is modular for flexibility
Light and compact
Quiet – less than 70 dB
Anodized for corrosion resistance
Aluminum extruded profiles
Standard chain and other types available
Full line of guiderail & mounting options
Connex Powder-Coated Steel Systems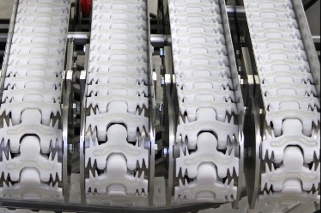 Designed to satisfy most layouts and material handling requirements and are utilized in many industries with no welding required.
All Connex systems deliver flexibility when adapting to system and production system requirements and a complete line of accessories are available.
Connex Powder-Coated Steel Features:
Modular for flexibility
All-carbon steel frame, legs, & fasteners
Standard chain and other types available
Available in all standard colors
Nonstandard colors are available