News From ACG Conveyors Inc.
December 20, 2021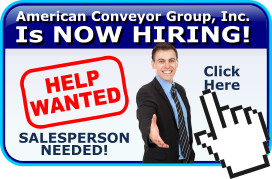 HELP WANTED! Our company is currently seeking qualified applicants for a position as a System Sales Representative in the Southeastern USA. We are looking for a motivated self-starter to supplement our, already established, team in the Conveyor and Material Handling Industry. Click Here for information.
September 25, 2020


How Covid-19 is Affecting You
Our suppliers are sensibly adjusting to these pandemic conditions and this may (or has) affected product delivery schedules. Because Covid-19 worker infections can affect the availability of the manufacturer's assembly line workers, assembly lines can be temporarily closed until workers are permitted to return to work, retarding estimated shipping dates. Read our complete statement.
August 1, 2018
From the Desk of Keith Mountain

  It is with great pleasure that I announce the promotion of Ronnie McCormick, former Vice President to President of American Conveyor Group, Inc.
Ronnie has been with American Conveyor Group, Inc., for the past 23 years and has provided strong effective leadership skills with our sales force, customers, and vendors.
In this capacity, Ronnie's functional responsibilities remain the same, while excepting the added responsibilities of President.
Please help me congratulate Ronnie on his new position at American Conveyor Group, Inc.. 

Sincerely,
Keith Mountain
[/col] [/row]